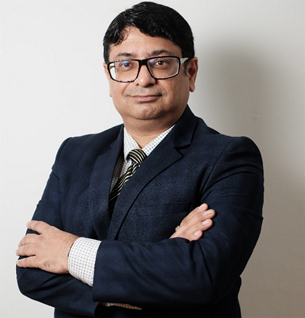 20 years plus valuation experience across Asia Pacific
Chartered Valuer and Appraiser (CVA), a certification conferred by Singapore Accountancy Commission (SAC), Singapore
Chartered Surveyor and Member (MRICS), Royal Institution of Chartered Surveyors, UK
Member, Business Valuers Association Malaysia (BVAM)
Member (former), the Business Valuation Special Interest Group, Chartered Accountants, Australia and New Zealand (CA ANZ)
Certificate in Applied Finance & Investment, Financial Services Institute of Australasia, (FINSIA), Australia
Masters in Business Management (MBM), Asian Institute of Management (AIM), Philippines
Bachelor of Commerce (B Com), Delhi University, India
Adie provides business valuation and strategic advisory services to the corporate sector and government agencies across Asia Pacific. He has in excess of 20 years of valuation and strategic advisory experience. He is a co-founder and Managing Director of Spring Galaxy. Prior to co-founding Spring Galaxy, he was the Managing Director with an MNC valuation firm. Prior to that, he worked with a mid-tier and a big 4 accounting firm in Australia and Philippines as part of the senior management team focusing on valuation and strategic advisory services.
He has been involved on various valuation (business, equity, property, plant & equipment, mining projects, biological assets, debt, financial instruments, and intellectual property (IP)/ intangible assets), M&A, and strategic advisory assignments in various industries in Australia, Brazil, Canada, China (incl. Hong Kong), Congo, Fiji, India, Indonesia, Japan, Malaysia, Maldives, Myanmar, Nauru, New Zealand, Philippines, Singapore, Thailand, UK and US. Through these roles, Adie has gained knowledge and experience in dealing with various corporate finance issues of businesses operating in different sectors, locations and at various stages of their life cycles.
Adie has worked with small to large organisations and Government agencies covering Advertising, Agriculture, Banking & Financial Services, Bio-tech, Cable television, Construction, Dairy, Fertilizer, Food Processing & Manufacturing, Healthcare, Healthcare IT, Hotels & Resorts, IT, Infrastructure both Social & Economic (Airport, Convention Centre, Energy/ Power, Emergency Services, Port, Prison, Rail, School, Toll Road and Water), Life Sciences, Logistics, Media (Radio & Television), Manufacturing, Mining, Multi Media, Postal Services, Telecom, Telecom Equipment, Trading, Retail & Franchise, Research and Property & Real Estate.
He has provided business and IP valuation services to a few Malaysian Government agencies. He has also provided valuation services to Government agencies in Australia, New Zealand and Philippines.
He is a regular trainer for accounting bodies, business schools, angel networks as well as speaks at various conferences and other forums on valuation and IP in the Asia-Pacific region.